Press Balance System film is made from layered PPS film, made in Japan by Toray. This film uses the world's toughest resin, which can be found on the bodies of aircraft. The Press Balance System is the first and only technology to allow for die cutter adjustments this precise. Over 350 die cutters use PBS Film in Japan alone.
【PBS Film Installation Location】
In Japan, it has been more common to install the PBS on the protective plate, but we now recommend the installation style more commonly used in Europe and North America: inside the cutting plate. This uses two stainless steel plates to sandwich the PBS film and create a new cutting plate, so the PBS film can be removed from the cutting plate and readjusted to account for gradual height and pressure changes in the machine, allowing it to be used for much longer.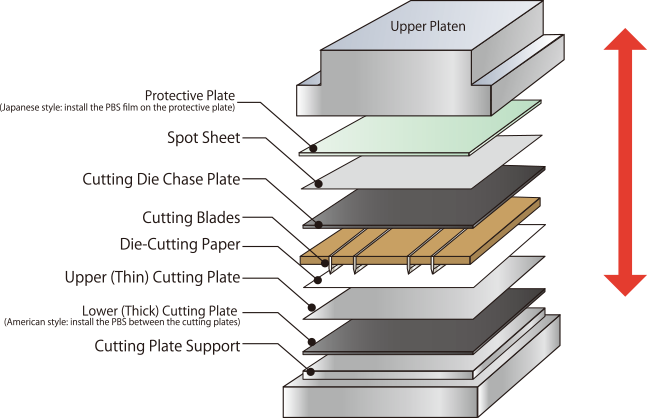 【Use Zone Patch Tape and Save Even More Time: 80% or More!】
We offer 30 mm-wide, 30 µm-thick tape made of the same material as the PBS film, for zone patching. By applying zone patch tape to complex areas with many blades, you can save 80% or more of the time you would usually spend compensating for unevenness. Take the photos below for example: even after PBS film installation, the areas of the cutting dies shown in pale orange would still cut the blank poorly. In order to address this, tape these areas using the zone patch tape first, then apply standard pressure sensitive tape to only the areas that still do not cut the blank adequately. This allows for increased cutting pressure without placing unnecessary strain on longer blades.